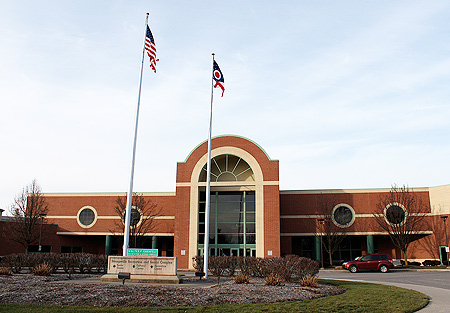 Strongsville Recreation Center
18100 Royalton Road
Strongsville, OH 44136
Map >>



Phone:


(440) 580-3260
Rec Center Hours:
*Important:

Special Holiday Hours and Days Rec Center may be Closed.



October 1 - May 31


Monday-Friday 5:00am-10:00pm
Saturday 8:00am-8:00pm
Sunday 9:00am-5:00pm



June 1 - September 30


Monday-Friday 5:00am-9:00pm
Saturday 8:00am-6:00pm
Sunday 12:00pm-5:00pm



Members' Only Days: November 1-March 31


Mondays, Tuesdays, Wednesdays
3:00-10:00pm

The Strongsville Recreation center is the place to go whether you're looking for a great
workout
, a place to
swim
, or enjoy a competitive game of
basketball, air hockey, ping pong or shoot some pool
.
Becoming a member is easy and if you plan to visit the center more than just a couple times a year, it will save you money. Members can access the facility as many times as they want with no extra fee. In fact, there are even some days where only members can come, and non-members are excluded from buying a temporary pass.
Yearly costs vary depending on the membership category that you choose. Membership is valid for one year from the date of application and is not refundable or transferable. Groups of 20 or more can visit the Center at a discounted rate. Arrangements can be made by calling 440-580-3270.
Basement -- Lower Level
Aquatic Center


The aquatic center is home to the very popular Pirate Ship kiddie pool with zero-depth entry. The ship takes up the entirety of the first section of the activity pool. It features many different slides, tunnels, and different water spouts to keep everyone wet and having fun. The second part of the activity pool boasts a giant water which you must be 48" to ride. The third section of the activity pool is a 5 lane lap pool with water basketball hoops. Friends can play some competitive water basketball, or just enjoy shooting from different areas of the pool.

The competition pool is 8 lanes, 25 yard laps and 3 diving boards, including a high dive.
It's the biggest and deepest pool in the aquatic center. Our city's swim team makes great use of the center's pools. One bit of advice, if you plan to visit during swim season, check to make sure the competition pool isn't closed due to team practices or meets. In addition to the pools, the aquatic center also features a 24 person whirlpool, a steam and sauna room and bleacher seating for approximately 500. For more information, contact Aquatic Supervisor Robin Meczkaat (440) 580-3260.



Strength Training and Youth Strength Room


Also located in the basement are 2 areas for strength training. Various free weights and plate loading equipment can be found here, as well as Lifefitness Signature Series resistance training equipment.



1st Floor - Main Floor
Main Gymnasium and Activity Studios


The Main gymnasium and Auxiliary gym are located on the first floor of the recreation center with 2 high school regulation basketball courts. 2 1400 sq. ft. wood floor activity studios are opposite the Main Gym with independent sound systems for aerobics and fitness classes.



Game Area and Tot Room


Also on the first floor is the game area which includes air hockey, billiard tables, ping pong and foosball tables, and the Tot Room which offers morning and evening childcare services for members for a minimal fee.



Event Center and Conference/Meeting/Party Rooms


Several rooms are available to rent as well as an entire Event Center complete with catering services and entertainment stage. The left wing of the recreation center is usually reserved for different events and occasions. The third Friday of every month during the school season are "Rec Dances", were Strongsville kids grades 5-8 may join each other in dancing and other festivities. Banquets for different sports teams and other community sponsored events are held here, as well as a lot of different flea market-like sales.

For complete listing of Facility/Room rental services, call Facility Rentals at 440-580-3270.

3rd Floor
Cardio Exercise Area


Getting a good workout has never been a problem for members of the Strongsville Recreation Center. Everything you need to work your most important muscle is housed on the 3rd floor in the Cardio Exercise area. From treadmills, stair steppers, bikes, and rowing machines, to nautilus resistance training equipment and ARC trainers, your cardio workout begins here. There is also has an indoor 1/12 mile track with 4 wide lanes (2 walking, 2 running) in this area.

---
Come enjoy the wonderful amenities at the Ehrnfelt Recreation Center and experience the benefits of staying active while getting to know others in the community.



| | |
| --- | --- |
| | |
posted Jun. 16th, 2014 - 11:58am
says:
Hi I am trying to gt ahold of membership/ the head of it; ect: anyway sometime ago: when u had your opening : and gave things away: I had won the Yearly membership package worth $400.00? And need to see/talk to the head of your rec center- I think name might have been Kathy? She was going to extend the membership and had questions also; such as if this is tranferable for me to give to someone who can use it/that lives closer?// Please have someone/ or Kathy or? call me :: my home Phone Number is 2166760366; email is
katensimanella@gmail.com
; i am on facebook too. Thanks in advance Karen Simanella
Add a Comment